Dr. ariadna papageorge
MD., F.A.C.S.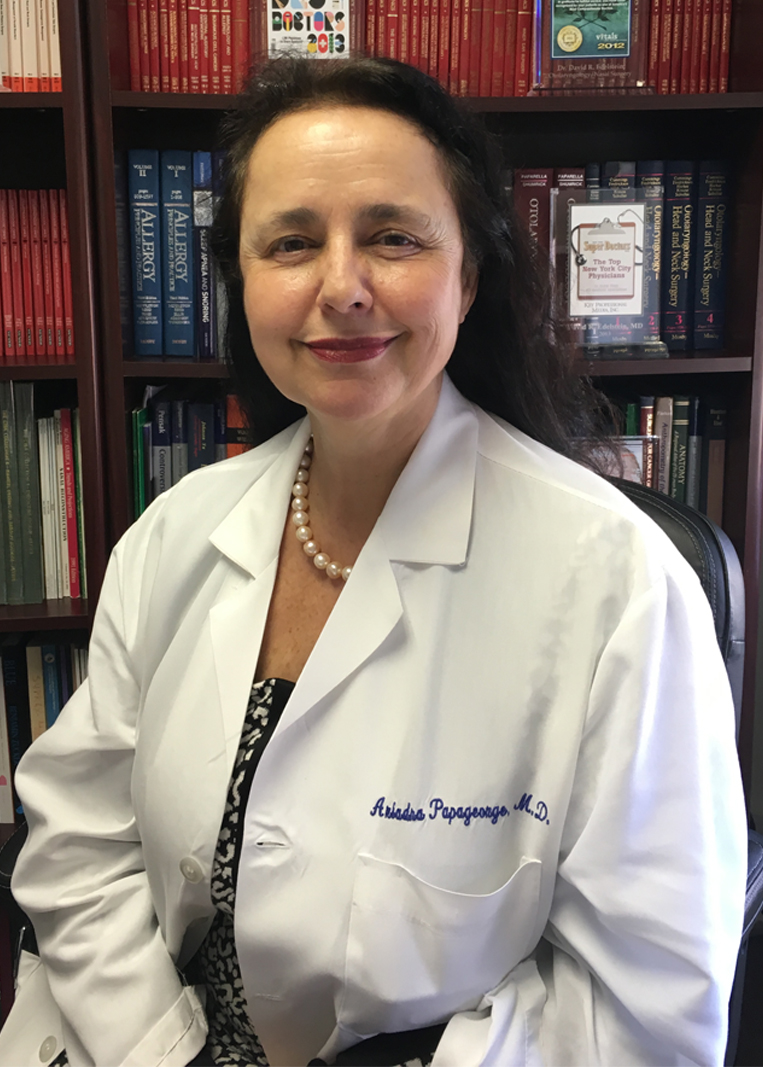 Clinical Assistant Professor of Otolaryngology – Cornell University Weill School of Medicine
Clinical Instructor – New York University School of Medicine
Surgeon Director Emeritus – Manhattan Eye, Ear, & Throat Hospital
Dr. Papageorge has a broad interest in all aspects of Otolaryngology. She has been in private practice since 1987, treating both adult and pediatric patients. Her operative interests include surgery for blocked tear ducts, reconstructive nasal surgery, endoscopic sinus surgery, laser surgery for hoarseness and snoring disorders. Dr. Papageorge is an active staff member of Manhattan Eye, Ear, & Throat Institute, Lenox Hill Hospital, New York Presbyterian Hospital and The Mount Sinai Hospital of Queens.
Education:
Stony Brook University – Bachelor of Science in Biology, minor in Art
Boston University – Masters in Immunology-Pathology
Noreste University – Medical Surgical Degree
New York Hospital of Queens – Internships in Medicine and Surgery
Manhattan Eye, Ear, & Throat Hospital – Residency in Otolaryngology
Board Certification:
American Board of Otolaryngology-Head & Neck Surgery
Fellow American College of Surgeons
Professional Affiliations:
Academy of Otolaryngology-Head & Neck Surgery
American College of Surgeons
Rhinologic Society
Women's Medical Association of NYC
Hellenic Medical Society
Romanian Medical Society
Contact us to book your Appointment.